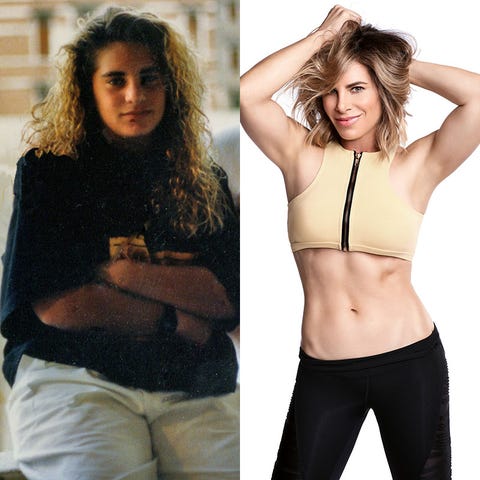 I was definitely on the chubbier side growing up, but I hit my heaviest weight around age 13, when I was about 170 pounds (I'm 117 now, for reference).
I used food as comfort, but I also used it as a way to relate to my dad—he was overweight too, so we bonded over food a lot. Back then, I really just ate without any regard for my health—pizza, French fries, Taco Bell, you name it.
Then, when I was 13, my parents got divorced—and everything shifted.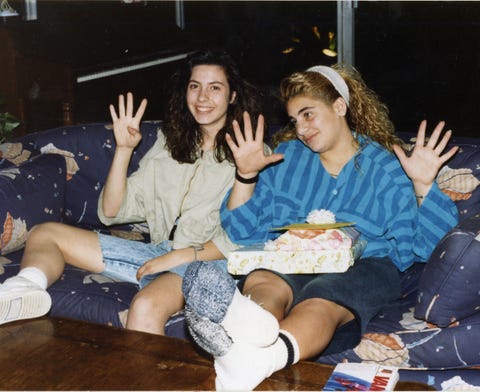 Jillian, right, with a friend.

Jillian Michaels
My mom enrolled me into martial arts classes—not for weight loss, but as an emotional outlet to help me through that time of my life. And it definitely took me a while to really catch on to the health and wellness components of it; one time I showed up to class with a bag of Cheetos, and my instructor was like, "No, absolutely not. It's disrespectful."
That was really the beginning of my fitness journey—I learned to use fitness as a means of empowerment. I was better able to handle bullies at school—and I realized that when you feel fit, you feel stronger in other aspects of your life, and you feel more capable.
But even though I was taking steps to become healthier, I wasn't necessarily doing it the right way.
My diet changed a lot—but not necessarily in a good way at first. I was eating a lot of fake diet food, like artificial sweeteners and low-fat versions of other foods.
It took me years; it probably wasn't until my thirties—I'm 44 now—that I finally got a firm grip on what a healthy diet should look like: eating whole, real foods; trying to avoid fake foods and chemicals like artificial sugars; and learning how to practice calorie restriction—not deprivation.
View this post on Instagram
A perfect blend of all the right macros. Yassss 🙌🏻 For hundreds of awesome delicious quick and easy recipes check out the #MyFitnessApp meal plans. Link in bio!
A post shared by Jillian Michaels (@jillianmichaels) on
I also try to practice my own form of intermittent fasting—I typically wait 13 to 14 hours between my last meal of one day and my first meal of the next day. So I'll usually stop eating around 7 p.m.; I'll have coffee when I wake up at 7 a.m. the next day, and then I'll break my fast around 9 a.m. But you can't eat like crap during those remaining 10 or so hours—here's what I tend to eat throughout the day:
I'm also committed to finding balance in my exercise routine, as I have with my diet.
Yes, I work out—but I only do it for four and a half hours per week. That's because I do it intelligently, mixing cardio with strength training and never letting myself get bored of one workout. Switching things up is important—I like to do a mix of cycling, yoga, and martial arts—and helps me stay interested in exercising.
View this post on Instagram
almost Friday tribe! How's the week treating ya thus far?
A post shared by Jillian Michaels (@jillianmichaels) on
When I'm crunched for time, I also try to fit in a HIIT (high-intensity interval training) workout whenever and wherever I can. Those exercises—squats, lunges, burpees, pushups—burn the most calories during and after a workout, so you get the most bang for your buck. But there is one thing I definitely can't stand: running—I just think it's tedious (and it makes my hips feel tight).
In fact, balance is a key aspect in other parts of my life, too.
Being (or getting) healthy doesn't have to be complicated—and it shouldn't require extremes. Healthy living is all about moderation. If you put the word "too" in front of anything—too much food, too little food, too much sleep, too little sleep—you've got chaos, whereas if everything is balanced just right, everything falls into place.
Need more inspo? It's Transformations Week on WomensHealthMag.com! For more amazing beauty, fitness, and weight loss transformations, check out the rest of our Transformations Week collection.
Source: Read Full Article