TLC star Jazz Jennings revealed back in June that she was preparing to undergo gender confirmation surgery. Now, she says, she's had it and she's thrilled with the results—but it wasn't a seamless process.
Jazz, 18, who was assigned male at birth but identifies as female, said her surgery was "like a dream" during an interview with ABC News Monday. "This is a moment that I had always envisioned and just experiencing it was so surreal," she said. "I was like, I can't believe this is happening."
Jazz said the surgery (which took place in June) was something she'd wanted for a long time. "When I was 2 years old, I went up to my mom and asked her, 'When is the good fairy going to come with her magic wand and change my penis into a vagina?'" she said.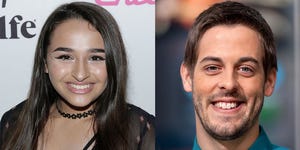 But not everything went according to plan. "There was just an unfortunate event and setback where things did come apart, and there was a complication," she said, without going into details. "I had to come back in for another procedure, but it was just all part of the journey. The good thing though is that it was only cosmetic and external so it wasn't too dramatic."
Jazz said her surgeon also requested that she lose 30 pounds before going under the knife. "That was really, really challenging because I had an addiction to food," she said. "And it was something that gave me comfort. And I had to let that go because the surgery is so much more important to me than any slice of cake or pizza."
Hold on, tell me more about gender confirmation surgery.
Gender confirmation surgery is a surgical procedure that can help "give transgender individuals the physical appearance and functional abilities of the gender they know themselves to be," according to the American Society of Plastic Surgeons (ASPS).
For a male-to-female transition, gender confirmation surgery may include facial surgery, top surgery (to construct and shape breasts) and/or bottom surgery, to reconstruct male genitalia to female genitalia, according to the ASPS. What kind of surgery a person gets depends on their specific desires, and not all transgender people choose to have surgery, according to GLAAD.
Jazz previously revealed on her YouTube channel that she was having a vagina constructed, which is called transfeminine bottom surgery. The surgery transforms existing male genitalia and reconstructs it into female genitalia, the ASPS says.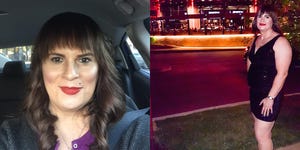 Since Jazz began transitioning at a young age and never went through puberty, her procedure was slightly different. At age 11, Jazz had a hormone blocker implanted in her arm to hinder the growth of her penis, according to the Daily Mail.
Because she didn't develop fully as a male, there wasn't wasn't enough tissue in her genital area to construct a vagina. Instead, she likely underwent an "experimental" procedure that involved taking out her her peritoneal lining (a thin membrane that surrounds her stomach) to build the vaginal canal—something she discussed on YouTube in May before her surgery.
"I'm going to have new genitalia…like penis to vagina…that's some serious sh*t, y'all," she said in the YouTube video.
Jazz, whose gender confirmation will be covered even more in the upcoming season of her show, I Am Jazz, premiering January 1, 2019, told ABC News that she saw her surgery as the end of her transition. "I've gone through the whole medical process, and this is really the last thing that will validate my identity as a woman," she said. "There is nothing else after this. I just get to be myself, be in the body that I've always wanted. And then I can live my life as just Jazz."
Source: Read Full Article