Lili Reinhart just posted a picture pole dancing to her Instagram Stories.
In the shot, Lili is hanging upside down (thanks to some killer strength) while practicing pole dancing for her role in the upcoming movie Hustlers.
When she's not feeling the burn on the pole, Lili exercises with a personal trainer.
Riverdale phenom Lili Reinhart just posted a picture pole dancing—black pumps and all—to her Instagram Stories on Thursday and it. is. fuego. 🔥
In the spicy shot, Lili is hanging upside down with one leg in the air and one wrapped around the pole right above her tightly-gripped hands which are clearly calling on her core and arm muscles to some major work. Her outfit? A far cry from Betty Cooper's conservative look: little black booty shorts, a cropped black tank, and hot black heels.
Lili captioned the photo, "Really nailing this whole pole thing. #hustlers"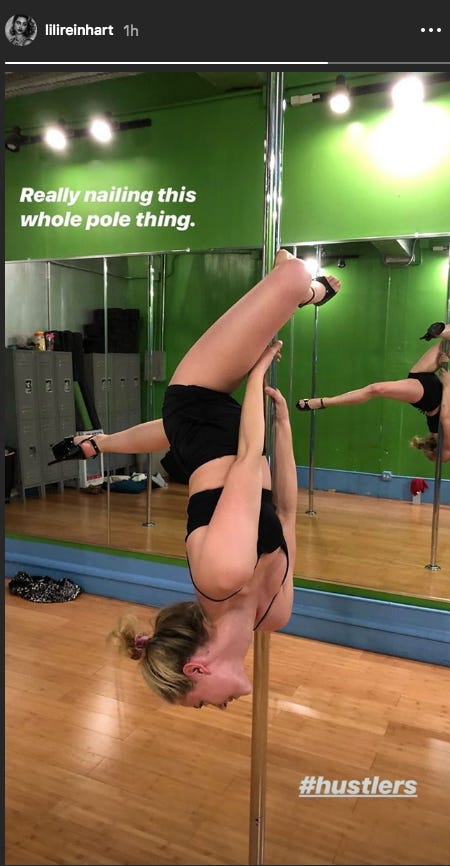 Lili Reinhart/Instagram
ICYMI the actress will star alongside Jennifer Lopez, Cardi B, and Constance Woo in Hustlers, a flick about a group of ex-strippers in New York City who team up to take down their wealthy former clients. Although it doesn't hit theaters until September 13, filming's been going down for months now (shout out to A-Rod for all the BTS content), so pole dancing practice is a must for Lili, even if she's in already great shape.
But scoring that rockin' bod wasn't a walk in the park for the actress, who told Us Weekly that she "hate[s]" going to the gym. That was until she was inspired by Wonder Woman star Gal Gadot: "I was like, I want to be you. I want to be strong so, you know, I didn't feel like, 'Oh I needed to be skinny or thin.' It totally wasn't like that," she said in the interview.
Now she views working out as a way to "keep [her] heart healthy" and counteract her "really bad diet" of junk food and soda—both of which are made possible thanks to a personal trainer that has "been kind of life changing," according to Us.
Similar to her journey to loving exercise, Lili's had quite the journey to loving and being confident in her body.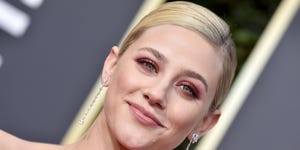 "It's hard because I've totally been on the receiving end of the mirror and thinking that's not what I want to look like. But if you're doing things that make you happy and you think you are treating your body well by nourishing it with good food and exercise then you should just accept yourself," the actress, who's suffered from body dysmorphia—a disorder where a person is fixated on perceived flaws in their appearance, per the Anxiety and Depression Association of America—told Us.
This candor about about her physical and mental health is one of the many characteristics that make Lili such a relatable celebrity (with, NBD, 16.9 million Insta followers).
And when I'm feeling depressed or sad, I remind myself how far I've come. And how I didn't let my depression consume me…
Case in point? In regards to fans who might have trouble working towards their health goals, she said in the interview, "I would say if you're living a life that makes you feel good, then I think that really helps you accept whatever your body looks like at whatever time."
Source: Read Full Article