Patrick Eslick remembers the first time someone made a "comment" about his weight. It was in the second grade. Things got worse during his teenage years, not only because of his growing size, but also the realization that he was gay. Eslick started shying away from the physical activities other boys were participating in (football, track, baseball).
He started spending a lot of time on the couch alone snacking—his size and his sexuality alienated him in high school. In college, the snacking and eating and (especially) the drinking got worse. He graduated at 340 pounds, feeling depressed, anxious, and barred from the activities his new-found friends were able to enjoy.
Eslick would go on to lose 185 pounds in the years following college, dropping to a lean 155. He always thought reaching 200 would be next to impossible, but it all started with a simple resolution.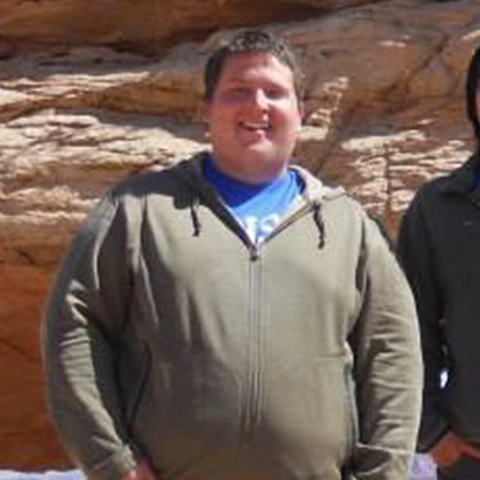 Patrick Eslick
College graduation commenced Eslick's new mindset. "It felt like the perfect opportunity to make major changes in my life," he says. "I wasn't a kid in college anymore; I was an adult with a job, and I wasn't taking care of myself." He felt that if he didn't make the change then, he never would.
Eslick began by taking control of his body. Part of this meant sharing with his close friends and family his sexuality. He came out, and then, with that challenging part done, he began the next step of taking control of his diet.
He started tracking his food using MyFitnessPal. He started limiting calories by cutting out fast food and dining out. That forced Eslick to start cooking. Likewise, he says his love of cooking began to blossom, a love he believes was life-changing. He subscribed to cooking magazines and would check out cookbooks from the library. "I think that's the most important reason I was able to lose weight and not gain it back."
Patrick Eslick
He would see the same diet plan posted on Reddit threads: chicken, broccoli, rice. But as he began trying new recipes, Eslick learned to make other healthy combinations, using vegetables like kale, asparagus, Brussel sprouts, and green beans to compliment proteins like chicken, salmon, shrimp, and pork. He didn't have to eliminate the occasional indulgence like beer, he just had to learn to not make those indulgences the norm.
When it came to fitness, Eslick knew he wanted to run. "When I was big, I always admired runners," he says. "Their bodies looked fit, and their endurance really impressed me. It also seemed like an activity that I could do anywhere, anytime without needing any special equipment other than shoes." Eslick took up Couch to 5K, doing run/walk workouts on his gym's treadmill. As the weight came off, running became more and more effective. After the first 100 pounds, running, like cooking, became a passion. "Running makes me feel free and vital and healthy," he says. "When I can't do it, it feels like something major is missing from my life."
After a knee injury, he turned to strength training. He began working with a trainer at his local rec center. With the strength healthy eating, running, and strength training, Eslick was able to drop below that impossible-seeming 200. Soon after, he started to actually see muscle definition. Then he was running marathons.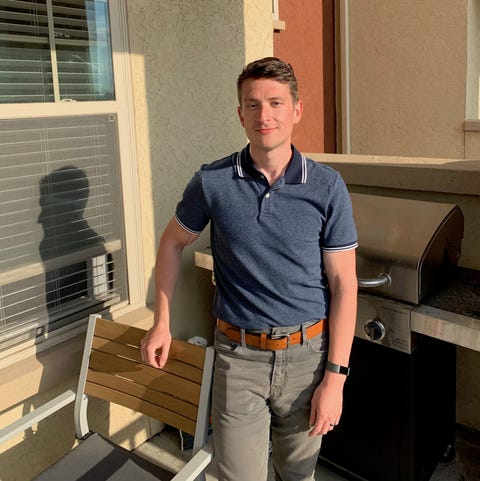 Patrick Eslick
The challenge was always optical, he says. "Even after I lost 50 pounds or more, when I looked in the mirror I was still seeing myself as fat. I think you can love yourself when you're fat, but I wasn't doing it." Eslick trusted the number on the scale. When it went down, he told himself he was getting closer to that his goal. "I'd never been able to see myself as remotely attractive. My body was always something to overcome, rather than something to offer." Losing weight restored Eslick's confidence: He became less shy, and he started looking forward to shopping for clothes, knowing that he could wear clothes without hiding.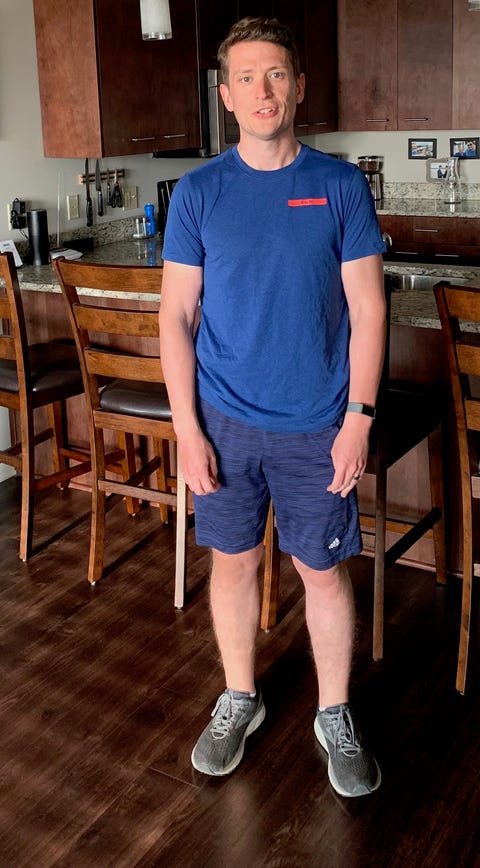 Patrick Eslick
He says one of the hardest parts has been saying "no" to social dates. He knew one drink might turn into more and then more might turn into a big meal. He resisted temptation by cooking at home, even if it brought occasional FOMO. But now he believes his social life has also improved.
"I'm comfortable and confident in my body and I have the energy to do the things I want to do," he says. "When you have respect for yourself, it's a lot easier to let others into your life."
Source: Read Full Article