When Annie Uhing, MD, is stressed about work, she can call her mom. She and her mom are close, yes, but her mom is also a physician and understands the ups and downs of medical education and the unique challenges of being a woman in medicine.
"My mom and I were talking about this the other day – I don't think we know any other mother-daughter pairs of doctors," said Uhing.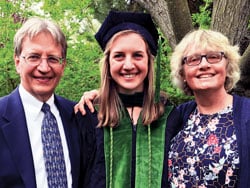 Dr Mike Uhing (left), Dr Annie Uhing, and Dr Charlene Gaebler-Uhing
In the United States, the number of female physicians has risen steadily since the mid- and late-20th century. As of 2019, women made up more than half of medical school classes across the country and 36.3% of the physician workforce.
Still, most female physicians are concentrated in a handful of specialties (such as pediatrics and obstetrics and gynecology) while the percentages of women in other areas remains extremely low (urology and orthopedic surgery). Many female physicians share anecdotal stories about not being taken seriously, like when a patient mistook them for a nurse, or preferred the advice of a male colleague to their own.
To celebrate International Women's Day, this news organization talked to two families of female doctors about their experiences in medicine and how they inspire and support one another inside and outside the hospital.
Deborah, Charlene, and Annie
When Deborah Gaebler-Spira, MD, started medical school at the University of Illinois in 1975, women made up just 15% of her class. "For me, the idea that as a woman you could have a vocation that could be quite meaningful and self-directed – that was very important," said Gaebler-Spira, now a pediatric rehabilitation physician at the Shirley Ryan Ability Lab and professor at Northwestern University in Chicago.
She blocked out a lot of discouragement along the way. In undergrad, the dean of the college warned Gaebler-Spira she'd never make it as a doctor. In medical school interviews, administrators could be hostile. "There was this feeling that you were taking a place of someone who really deserved it," she said. When selecting a residency, Gaebler-Spira decided against a career in obstetrics because of the overt misogyny in the field at the time.
Instead, she went into pediatrics and physical medicine and rehabilitation, eventually working to become an expert in cerebral palsy. Along the way, Gaebler-Spira made lifelong friends with other female physicians and found strong female mentors, including Billie Adams, MD, and Helen Emery, MD.
When her sister, Charlene Gaebler-Uhing, MD, also decided to go into medicine, Gaebler-Spira said she "thought it was a sign of sanity as she was always much more competitive than I was! And if I could do it, no question she was able!"
Gaebler-Uhing, now an adolescent medicine specialist at Children's Wisconsin in Milwaukee, followed her older sister's footsteps to medical school in 1983, after first considering a career in social work.
While there were now more women going into medicine – her medical school class was about 25% women – problems persisted. During clinical rotations in residency, Gaebler-Uhing was often the only woman on a team and made the conscious decision to go professionally by her nickname, Charlie. "If a woman's name was on the consult, her opinion and insights did not get the same value or respect as a male physician's," she said. "The only way they knew I was a woman was if they really knew me."
The Gaebler sisters leaned on each other professionally and personally throughout their careers. When both sisters practiced in Chicago, they referred patients to one another. And Gaebler-Uhing said her older sister was a great role model for how to balance the dual roles of physician and parent, as few of the older female doctors who trained her were married or had a child.
Now Gaebler-Uhing's daughter, Annie Uhing, MD, is entering medicine herself. She is currently in her second year of pediatric residency at the Medical College of Wisconsin, Milwaukee. She plans to do a chief year and then a pediatric endocrinology fellowship.
Growing up, Uhing wasn't always sure she wanted to work as much as her parents, who are both doctors. But her mom provided a great example few of her friends had at home: "If you want to work, you should work and do what you want to do and it's not wrong to want to have a really high-powered job as a woman," said Uhing.
Kathryn, Susan, and Rita
The three sisters Kathryn Hudson, MD, Susan Schmidt, MD, and Rita Butler, MD, were inspired to go into medicine by their mother, Rita Wilson, MD, who was one of the first female interventional cardiologists in the United States.
"I think we had a front row seat to what being a doctor was like," said Hudson, a hematologist and oncologist and director of survivorship at Texas Oncology in Austin. Both parents were MDs – their dad was a pharmaceutical researcher at Merck – and they would excitedly discuss patient cases and drug development at the dinner table, said Butler, an interventional cardiology fellow at the Lankenau Heart Institute in Wynnewood, Pa.
All three sisters have vivid memories of 'Take Your Daughter to Work Day' at their mom's hospital. "I remember going to Take Your Daughter to Work Day with her and watching her in action and thinking, oh my gosh, my mom is so cool and I want to be like her," said Schmidt, a pediatric critical care specialist at St. Christopher's Hospital for Children in Philadelphia. "I've always felt special that my mom was doing something really cool and really saving lives," said Schmidt.
Their fourth sibling, John, isn't a physician and "I honestly wonder if it's because he never went to Take Your Daughter to Work Day!" said Butler.
Having a mother who had both a high-powered medical career and a family helped the three women know they could do the same. "It is a difficult journey, don't get me wrong, but I never questioned that I could do it because my mom did it first," said Hudson.
As adults, the sisters confide in one another as they navigate modern motherhood and careers, switching between discussing medical cases and parenting advice.
As hard as their mom worked while they were growing up, she didn't have the pressure of living up to the "super mom" ideal we have now, said Butler. "Everyone wants women to work like they don't have kids and everyone wants women to parent like they don't have a job," she said. Having two sisters who can provide reassurance and advice in that area goes a long way, she said.
"I think sharing that experience of navigating motherhood, a medical career, and marriage, and adult life with sisters who are going through all the same things is really special and I feel really fortunate for that," said Schmidt.
This article originally appeared on MDedge.com, part of the Medscape Professional Network.
Source: Read Full Article