In her latest Instagram post, Selma Blair shared a photo of herself "getting plasma."
What Selma is referring to is intravenous immunoglobulin, or IVIG, a treatment made up of "blood fluids."
According to medical professionals, IVIG treatments are used in patients with MS, though they are expensive and not always a preferred route.
One Instagram post at a time, Selma Blair is shedding light on the various treatments, struggles, and therapies she experiences while managing multiple sclerosis.
In her most recent post on Thursday, Selma shared a photo of herself resting in a cozy-looking eye mask, "resting up" and "getting plasma," she said, adding the hashtag "#ivig."
"So moved when I realized it takes from 1k to 15k donors for a single dose," she continued. "That is an incredible gift I am receiving and has helped immensely. Nice set up here too. Warm blankets. At peace."
Hold on—what type of treatment is Selma getting?
"Selma is getting immunoglobulin given via intravenous route, or intravenous immunoglobulin ( IVIG )," says Amit Sachdev, M.D., M.S., associate medical director of the Division of Neuromuscular Medicine at Michigan State University.
IVIG is a medicine made from donate blood fluids and it's used to boost the immune system, according to the University of Michigan Health System.
IVIG does require the number of donors Selma mentions in her post (anywhere from 1,000 to 15,000), as blood donations are purified to create an immunoglobulin dose, says Sachdev.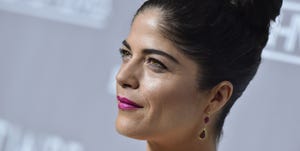 Per the University of Michigan Health System, IVIG may improve function and lengthen the time before a relapse in people who have relapsing-remitting MS (when symptoms randomly flare and then improve), but it does not seem to help slow progression of the disease.
While the treatment is used in patients with MS, it is not always the preferred medication, according to Sachdev, because "it does not work as directly on the causes of inflammation in the brain as other medications that are available." It's also incredibly expensive, not widely available, and not considered practical for long-term treatment of MS, per the University of Michigan, which adds that it sometimes may be used to treat a severe relapse.
In her post, Selma shared her gratitude for being able to receive the IVIG treatment. "This is not a sad post," she wrote "Nor am I showing any tubing although I find it all curious. This is me grateful. Thank you universe. Thank you donors. Thank you my friends and all who aim to find their way to feeling their strongest. Whatever form that takes. Love."
Selma continues to be a stunning example of staying positive in the face of hardship. Her grace and gratitude manage to shine through all the tough stuff she shares, and we think that makes her pretty special.
Source: Read Full Article