The most comprehensive safety analysis of tralokinumab to date shows nothing unexpected in patients with atopic dermatitis (AD) treated for up to a year, according to a review published in the British Journal of Dermatology.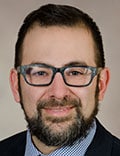 Dr Eric Simpson
These findings underscore the mechanistic elegance of interleukin (IL)-13 inhibition and highlight potential advantages of flexible dosing, according to the study's lead author, Eric L. Simpson, MD, MCR. Overall, the pooled analysis of safety data from five phase 2 and 3 trials shows that "blockade of a single cytokine provides excellent short- and long-term safety, which is useful for a severe chronic disease," said Simpson, professor of dermatology at Oregon Health & Science University in Portland.
Most patients with AD require years of treatment. "So for clinicians to confidently report to patients the low rates of serious adverse events (AEs) and lack of immune suppression side-effect profile is very encouraging for both the provider and patient," Simpson said, who noted there were no new signals or concerning short-term AEs.
Tralokinumab (Adbry), an IL-13 antagonist administered subcutaneously, was approved by the FDA for treating moderate to severe AD in adults in December 2021.
Minor Differences vs Placebo
In the pooled analysis involving 1605 patients treated for 16 weeks with tralokinumab and 680 who received placebo, frequency of any AE was 65.7% and 67.2%, respectively. Severe AEs occurred in 4.6% and 6.3% of patients, respectively.
The most common AE overall was AD, which occurred less often in tralokinumab-treated patients (15.4% of patients) than those on placebo (26.2%). Other common AEs that occurred more frequently with tralokinumab included the following:
Viral upper respiratory tract infections (15.7% vs 12.2%)

Upper respiratory tract infections (URTI, 5.6% vs 4.8%)

Conjunctivitis (5.4% vs 1.9%)

Injection-site reactions (3.5% vs 0.3%)
AEs that occurred less often with tralokinumab than placebo included skin infections (3.7% vs 9.2%, respectively) and infected dermatitis (1.6% vs 6.4%).
Regarding safety areas of special interest, eye disorders classified as conjunctivitis, keratoconjunctivitis, or keratitis occurred more commonly with tralokinumab (7.9%) than placebo (3.4%). Most eye disorders were mild or moderate and resolved during the study. During maintenance treatment up to 52 weeks, AE rates mirrored those in the initial treatment period and did not increase with treatment duration.
In fact, Simpson said, the low rate of AEs that are known to accompany type 2 blockade, such as conjunctivitis, do not increase but rather appear to drop with longer-term use. The fact that skin infections were reduced vs placebo and decreased over time suggests that long-term IL-13 blockade with tralokinumab positively impacts skin infections, a well-known comorbidity in uncontrolled AD, he added.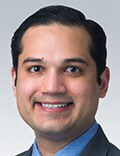 Dr Raj Chovatiya
Raj Chovatiya, MD, PhD, who was asked to comment on the study, said, "These findings provide additional data supporting the safety and tolerability of tralokinumab and support my personal real-world experience with tralokinumab as a safe and effective biologic therapy for patients with moderate to severe AD." Chovatiya is assistant professor, director of the Center for Eczema and Itch, and medical director of clinical trials at Northwestern University Feinberg School of Medicine in Chicago.
Four-Week Dosing
Consistent with ECZTRA 3, the rates of URTIs and conjunctivitis were lower with maintenance dosing 300 mg every 4 weeks, consideration of which is approved for responders weighing less than 220 pounds, vs 300 mg every 2 weeks. Specifically, 6.7% of patients on every 4-week dosing schedule experienced URTIs, vs 9.4% on the every 2-week dosing schedule and 7% of those on the every 2-week dosing schedule plus optional topical corticosteroids. Corresponding figures for conjunctivitis were 3%, 5%, and 5.6%, respectively.
"Four-week dosing is a possibility in your patients with a good clinical response at 16 weeks," Simpson said. Advantages include improved convenience for patients, he added, and this analysis shows that dosing every 4 weeks may improve tolerability, with a lower rate of conjunctivitis.
Although it is difficult to directly compare review data to other studies, said Chovatiya, findings also suggest that tralokinumab may be associated with reduced infections and conjunctivitis compared with other advanced AD therapies. Head-to-head trials and real-world studies are needed to better understand comparative safety, he added.
Some patients will lose a degree of response with the four-week dosing schedule, Simpson said. In ECZTRA 1 and 2, 55.9% of patients who achieved investigator global assessment (IGA) scores of 0 or 1 after 16 weeks of dosing every two weeks maintained this response level through week 52, vs 42.4% of responders who switched from dosing every 2 weeks to every 4 weeks after week 16. But according to data that Simpson recently presented, 95% of patients switched to monthly dosing who relapsed and returned to dosing every 2 weeks regained their original response level within approximately 4 weeks.
In his personal practice, Simpson has prescribed tralokinumab for patients with AD for up to a year. However, he and fellow investigators have been following much larger populations for more than 2 years and are planning additional publications. "Safety data will continue to accrue" said Simpson, "but I don't expect any surprises."
The clinical trials were sponsored by MedImmune (phase 2b) and LEO Pharma ( ECZTRA phase 3 trials), which also sponsored the review. Simpson reports grants from Galderma, Merck, Novartis, Tioga, and Vanda; personal fees from Arena Pharmaceuticals, BenevolentAI, BiomX, Bluefin Biomedicine, Boehringer Ingelheim, California Pharmaceuticals, Coronado Biosciences, Dermira, Evidera, Forté Bio, Janssen, Ortho Dermatologics, and Sanofi Genzyme; and grants and personal fees from AbbVie, Celgene/Amgen, Eli Lilly, Incyte, Kyowa Kirin, LEO Pharma, Pfizer, Regeneron, and Sanofi.
Chovatiya has been an advisor board member, consultant, investigator, and speaker for numerous pharmaceutical companies including LEO Pharma.
Br J Dermatol. Published in the December 2022 issue. Full text
John Jesitus is a Denver-based freelance medical writer and editor.
For more news, follow Medscape on Facebook, Twitter, Instagram, YouTube, and LinkedIn
Source: Read Full Article