While Kim Lundeen was serving as a resident doctor in the Minneapolis area early in the pandemic, a patient asked her about a remedy rumored to cure COVID. The patient, who had tested positive for the virus, said she had heard advice circulating through her community that collecting and drinking her own urine would help her recover. The patient wanted to know whether Lundeen recommended the treatment.
Lundeen was prepared for this sort of conversation and the balancing act of accuracy and openness it would require. She had taken one of the University of Minnesota's first classes on misinformation. It taught her to spot, research, and counter false advice and faulty sources.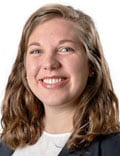 Dr Kim Lundeen
Misinformation courses, like the one Lundeen took, have been popping up in medical schools since the pandemic, which ushered in a myriad of conspiracy theories challenging doctors' reputations as trusted health experts. Equipping young doctors to spot misinformation and effectively educating the public and their patients is now integral to a successful medical practice, several medical educators told Medscape Medical News.
The two primary functions of medical school are to teach doctors what they must know and how to look everything else up, said Kristina Krohn, MD, a hospitalist and Lundeen's misinformation instructor at University of Minnesota. "If you can't do the latter well, you will be persuaded that safe things are inappropriate and inappropriate things are something you should do…You'll cause more harm."
Funding for Electives
Demonstrating its commitment to countering misinformation, the American Association of Medical Colleges (AAMC) teamed up this year with the Centers for Disease Control and Prevention (CDC) to award $29,000 grants to five academic medical centers to revamp their curricula. The grants are for "kickstarting" classes that teach how to mitigate health misinformation and provide vaccine education. Some grant recipients are pioneering workshops on the topics; others are revamping apps to help physicians respond to vaccine hesitancy.
"This is a natural evolution of medical education," said Andrea Anderson, MD, a professor at George Washington University School of Medicine, who helped choose the recipients of the AAMC grants. It has always been a clinician's job to accurately present health information to help patients make the best decision, she said. The difference is that now more than ever patients are inundated with more information from outside sources — some of it false and dangerous.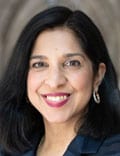 Dr Vineet Arora
"There's an infodemic and I believe it's not going away," said Vineet Arora, MD, co-instructor of the misinformation course and dean for medical education at the University of Chicago Pritzker School of Medicine, one of the five AAMC grant recipients. "All our graduates should be well versed in communicating science to the public," she said, adding that UChicago is revamping its curriculum to include science communication.
UChicago's program was born out of a need for online curriculum and Arora's own experience as a physician treating COVID-19 and navigating social media. She was seeing patients refuse to be vaccinated because they held so tightly to myths circulating about infertility and DNA damage.
Meanwhile, Arora said she realized more of her colleagues were experiencing burnout because of the numbers of patients who were victims of disinformation. "I had this 'aha' moment," she said. We are not training people to deal with misinformation, and it could be causing burnout.
At UChicago, the course is a 10-week-long elective for medical students and emphasizes the ability to discern misinformation, locate better sources of information, and communicate medical facts. Arora said the course also pulls from students' experiences.
Soon after starting medical school, students start having to address health questions from their community, Arora said. And in those conversations, family and friends will often disclose the myths they believe as truth.
The same is true for the doctors and nurse practitioners that take Arora's abbreviated misinformation training. They come to the course with examples of myths from their unique context and patient cohort, whether that be from rural or urban settings, a different country, or an underserved population. Arora and her co-instructors teach students at UChicago to understand the culture and context in which a myth originates. Understanding how a myth started is the first step to helping replace it with more accurate information, she said.
The goal of the programs and courses funded by the AAMC and the CDC is not to change people's minds and have them immediately think differently, Anderson said, but rather "it's to open the conversation and offer information they may not have" gained otherwise.
Addressing Myths
Because of her misinformation training, Lundeen told Medscape she was able to be curious about the urine advice and respectful in her response, focused on making and maintaining a connection with her patient. She told the patient she hadn't heard of that treatment in her training. And while the urine approach wasn't likely to be very harmful, it could be dangerous and wasn't prescribed as a COVID-19 treatment by the broader medical community. But there were other remedies she could offer, she told the patient.
Battling patient misinformation may not be accomplished in a single visit, Krohn said. "Sometimes establishing a relationship and providing care is more important" than correcting a patient, she said. And over time that care can open a channel of communication, she added.
Arora explained that if patient trust is lacking, a physician's attempts at myth busting can do more harm than good. You can end up cementing the myth or perpetuating it before it's widespread, she added.
Both instructors say they teach students to respect patients' experience and lead conversations with phrases such as: "I understand you might have heard that because…" and explain the source of the myth. For instance, they teach students to explain that a myth such as "the flu shot gives you the flu" started because the flu shot can cause an immune reaction.
The goal of the AAMC's kickstarter funding is to arm students to reach reluctant populations with accurate information and ultimately improve health outcomes, according to the organization's website. There's no one way to counter misinformation, but the grant should help uncover and test new strategies, Anderson said.
The addition of a new elective, however, raises the question of whether students have time to fit misinformation lessons into their already crammed schedule. The scope of medical education is ever-expanding to include a plethora of social issues and science relevant to medical practice on top of clinical courses, according to both Anderson and Arora.
As long as information continues to develop and spread at such a fast rate, Arora said, physicians need to be able to interpret it and communicate it well. "This is an area we believe strongly is not going to be a fad."
Donavyn Coffey is a Kentucky-based journalist reporting on healthcare, the environment, and anything that affects the way we eat. She has a master's degree from NYU's Arthur L. Carter Journalism Institute and a master's in molecular nutrition from Aarhus University in Denmark. You can see more of her work in Wired, Scientific American, Popular Science, and elsewhere.
For more news, follow Medscape on Facebook, Twitter, Instagram, YouTube, and LinkedIn
Source: Read Full Article