Male physicians earn more than their female colleagues, a reality that's also represented in their net worth, according to a recent Medscape survey. Although 44% of male physicians had a net worth of $2 million or more, only 23% of female physicians had amassed this level of net worth.
Despite a challenging year, physicians landed on their feet in terms of their wealth and debt. The average earnings for a primary care physician was $242,000; specialists earned $344,000. This is a slight dip from earnings the previous year, when primary care physicians took home $243,000 and specialists earned $346,000, according to the Medscape Physician Wealth & Debt Report 2021.
This occurred in the midst of physician office closures in 2020 in response to COVID-19. Some physicians endured the worst months through a variety of means, such as receiving funds through the Paycheck Protection Program, providing telehealth visits, renegotiating leases, or cutting staff.
Physicians Are Saving Their Money
Ninety-four percent of physicians reported living within or below their financial means. Only 5% claimed to live above their means. Still, savings took a hit because of employment terminations, in addition to reductions in salary and retirement plan contributions for hospital-employed physicians, said Ned Palmer, MD, MPH, chief strategy officer at Panacea Financial and attending physician and Boston Children's Hospital and Harvard Medical School.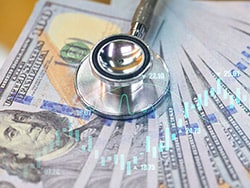 Joel Greenwald, MD, CFP, a St. Louis Park, Minnesota, wealth management advisor to physicians, defines living within one's means as having a 3- to 6-month emergency fund, directing at least 20% of gross income toward retirement savings, and appropriately funding 529-plan college savings accounts. Younger physicians should prioritize paying off high-interest debt, he adds.
Physicians' Net Worth Is on the Rise
Over the past year, physicians' net worth has actually increased. In the 2021 survey, 56% of physicians reported a net worth of $1 million or more; by contrast, only 50% had achieved a similar net worth the previous year. Three drivers of their net worth are the increase in home prices, a rising stock market, and physicians' accumulation of cash.
"[Physicians] cut back on spending because they were worried about big declines in income and also because there was simply less to spend money on," noted Greenwald, the advisor to physicians.
The top specialties with a net worth of more than $5 million are internal medicine, at 9%; radiology, at 7%; cardiology, at 7%; and orthopedics and orthopedic surgery, at 7%. Eighteen percent of family medicine physicians had a net worth of less than $500,000; in this category, family doctors are joined by colleagues in internal medicine, at 17%, and pediatrics, at 11%. The percentage of specialists with a net worth of less than $500,000 is similar to the percentage in 2020.
Survey participants were more likely to be in internal medicine (14%), followed by their colleagues in family medicine (13%) and pediatrics (8%).
Physicians Are Shedding Debt and Expenses
Like many Americans, physicians focused on the basics over the past year. Sixty-four percent of physicians revealed that they're paying off the mortgage on their primary residence; 37% are making car loan payments; and 25% are paying off credit card debt. Twenty-five percent of physicians are paying off their own college or medical school debt.
The top three ways physicians are cutting expenses are as follows:
Distinguishing between wants and needs and not buying what they don't need

Cooking more at home and shopping less

Cutting the grass at their home residence and doing home repairs
Nearly half (49%) of the physicians in the survey use a mental budget to keep track of their personal expenses, which is consistent with previous years. Only 17% of physicians rely on a written budget to manage their personal expenses; 34% don't rely on a budget for personal expenses.
A 2020 survey conducted by the financial software firm Intuit revealed that only 35% of Americans knew how much they spent the previous month. But differences exist between the generations: 27% of millennials, 34% of Generation Xers, and 46% of baby boomers knew the extent of their spending.
In terms of lingering school debt, emergency medicine physicians are at the top, with 33% still on the hook. They're followed by their colleagues in family medicine (31%), pediatrics (31%), and physical medicine and rehabilitation (31%). Infectious disease physicians are relatively fortunate in this regard, because only 12% are still paying off such debt. Only 14% of pulmonologists and 15% of rheumatologists still carry school debt.
Participating in the survey were 17,903 US physicians in current practice across more than 29 specialties. The survey was conducted from October 6, 2020, to February 11, 2021. Participating physicians were Medscape and MDedge members.
Aine Cryts is a veteran health IT and healthcare writer based in Boston.
For more news, follow Medscape on Facebook, Twitter, Instagram, and YouTube.
Source: Read Full Article