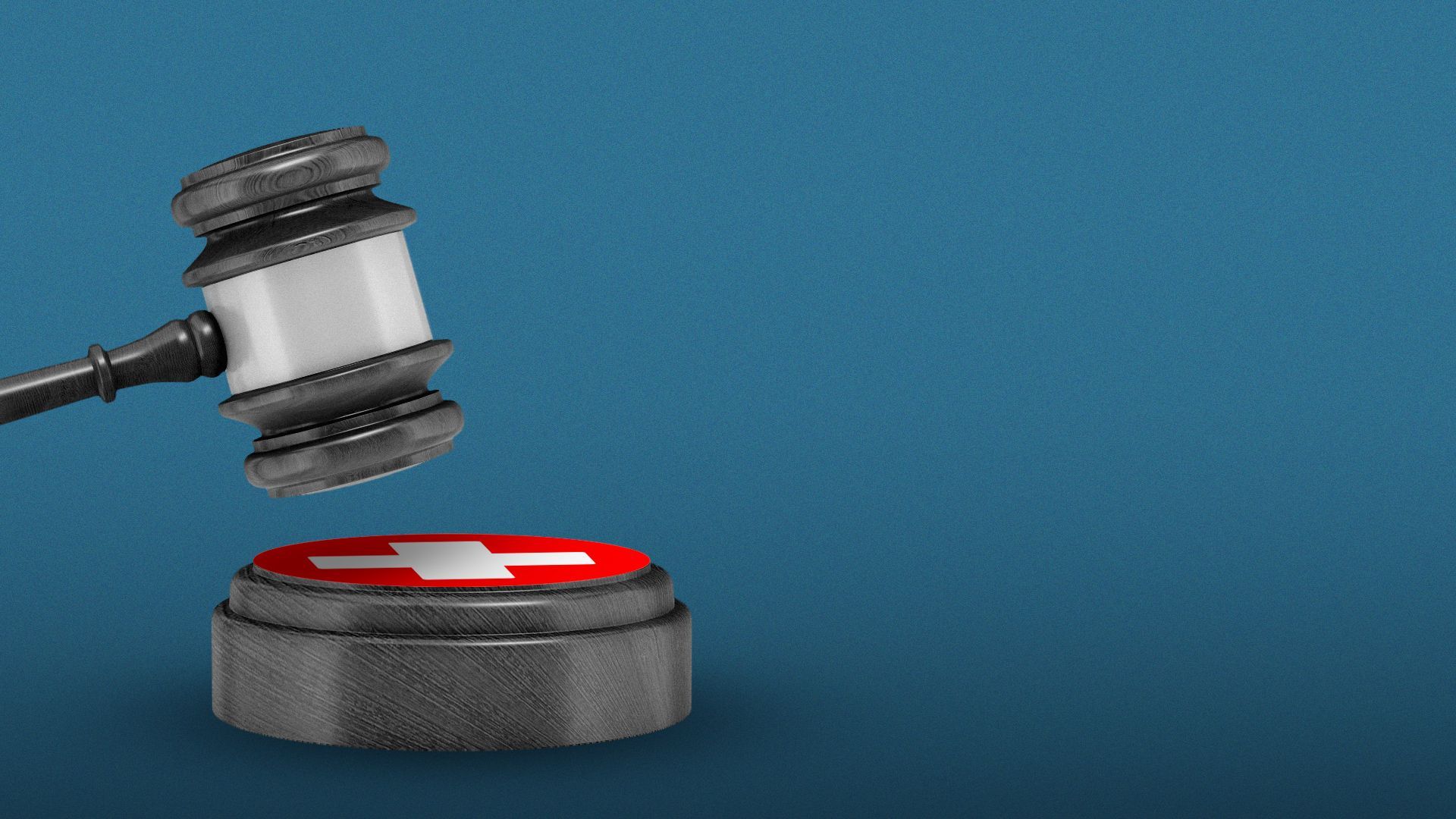 Illustration: Gabriella Turrisi/Axios
Pfizer's antiviral Paxlovid is one step closer to gaining full approval from the Food and Drug Administration, but whether that convinces more doctors to prescribe it is an open question.
Driving the news: Vaccine advisers to the FDA voted 16-1 on Thursday to endorse Paxlovid for high-risk COVID-19 patients, but experts later said there's not enough data to determine precisely who would benefit most from the drug.
That poses a dilemma for physicians who — in addition to considering drug interactions and how the virus has evolved — also have to weigh factors like Paxlovid's effect on pregnant and immunosuppressed people and other vulnerable populations.
Catch up quick: Many doctors are already hesitant to prescribe the drug, either because of possible side effects like muscle pain or altered taste or out of a belief that a patient is not sick enough.
And there are longstanding questions about how well the drug, once hailed as a pandemic "game-changer," works on vaccinated patients or younger people.
Limited public awareness and perceptions that the pandemic is over have also led fewer people to ask for it.
The circumstances could hamper efforts to ensure Paxlovid gets to those who most need it, even if full FDA approval boosts public acceptance and uptake.
Go deeper: Almost 12.7 million courses of Paxlovid have been distributed, according to the Department of Health and Human Services.
But demographic breakdowns aren't publicly disclosed, making it difficult to know who's getting it.
In some states, Paxlovid is being prescribed in less than a quarter of COVID cases, per a January analysis of White House data from The New York Times.
A CDC study last October found Black and Latino patients were as much as 36% less likely to be prescribed the drug than white patients even when they were immunocompromised.
And Test to Treat sites aimed at helping hard-hit communities accessPaxlovid were often not accessible to rural residents and others most in need, according to a November report from Brigham and Women's Hospital.
What's happening: "There's not a good understanding [of Paxlovid] among the medical community" leading to an "actual dissuading of patients from taking an effective and safe drug that could save their life," said Sankar Swaminathan, an FDA panelist and infectious disease specialist at the University of Utah who voted to recommend full approval.
Swaminathan said he's had a "distressingly large number of patients" — including those with cancer — say they were told not to take Paxlovid because of COVID rebound, in which people test positive or have symptoms after completing a course of the drug.
FDA staff concluded there's no connection between the drug and the phenomenon.
Terry Gillespie, a patient representative and the lone member of the expert panel who voted against full approval, told panelists she's had COVID multiple times and has one lung yet — has never been offered Paxlovid.
"I'm kind of concerned about the doctors knowing actually when to prescribe it to somebody, say, like me," she said.
The other side: A January Medscape survey of more than 1,500 providers regarding Paxlovid found that 44% of physicians said they didn't prescribe the drug because the patient was taking medication that reacted with it.
FDA officials said Thursday that more than half of Paxlovid-eligible Medicare and VA patients are on drugs that contraindicated with the antiviral.
The bottom line: "I don't think the issue is whether or not there's benefit," said member Lindsey Baden, the director of clinical research at Brigham and Women's Hospital. "It's understanding who, when and mitigating the risk — which is not zero, but it's small."
Source: Read Full Article