Raymond Weber says type 2 diabetes "snuck up" on him ― which makes sense. Playing 6-hour gigs four nights a week at Fat Cats on Bourbon Street in New Orleans, plus assorted weekend gigs, can do a number on one's health.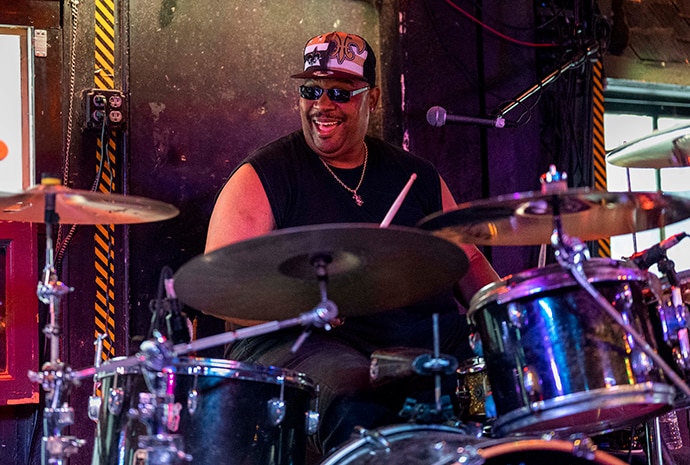 Drummer Raymond Weber plays at Fat Catz Music Club on Bourbon Street.
But thanks to the staff at the New Orleans Musicians' Clinic and Assistance Foundation (NOMC&AF), Weber has managed to get at least a bit of control over his health. His weight has fallen from 340 lb to a more portable 240 lb. And when he slips by overindulging, his physician, Cathi Fontenot, MD, can be as stern as the most demanding band leader.
Dr Cathi Fontenot at the New Orleans Musicians' Clinic.
"Dr Fontenot says to me, 'Raymond, you are telling me one thing, but the lab work tells me different. You don't want to have to lose your feet or hands. That would not be a good outcome for a drummer,' " Weber, 55, said in a recent interview. "She keeps me on task and fusses at me when I mess up."
He follows a strict regimen, taking four or five medications daily to manage his blood pressure, fluid retention, and blood sugar.
All that percussion work also takes a physical toll. "To the audience, we might look like we're having the time of our lives, but we feel like we're working for a construction company," Weber said.
Legendary New Orleans musicians ― think Louis Armstrong, Jelly Roll Morton, Joseph "King" Oliver ― are considered royalty in this sultry southern city. But the title is not reserved only for the ones who are household names worldwide.
The city is still home to musicians who rule with their soulful blues and smooth jazz, creating a soundtrack iconic to residents and visitors. As vital as these artists are to underscoring the city's rich culture, their healthcare can at times play second fiddle to their maintaining livelihoods at nightclubs, music festivals, and pickup gigs.
Key to addressing the health problems of these culture bearers is NOMC&AF, known around town as the Musician's Clinic.
Founded 25 years ago by Fontenot and a group of community activists and music fans concerned with health disparities among the city's performers, the fledgling clinic was donated by the LSU Health and Charity Hospital Systems and the Daughters of Charity. Allen Toussaint and the band Phish arranged for a $5000 donation from a record producer.
Over the ensuing decades, additional support came from donors and countless fundraising events. By 2020, its annual budget was $3.5 million, of which $2.2 million was in-kind support, with 70% allocated to patient care. The LSU Healthcare Network donates the clinical space, the front desk staff, and the electronic medical records system. Dozens of attorneys, accountants, and consultants come to the aid of patients as needed. Nearly 60% of patients are covered by Medicaid, and 30% are covered by other carriers. A handful lack any health insurance.
The clinic's pool of 2600 patients extends beyond musicians ― who make up 70% of patients ― to visual artists, spouses, and people in the service and entertainment industry, such as bartenders, sound musicians, DJs, tour guides, actors, and burlesque dancers.
"They don't typically access healthcare and don't pay attention until something goes wrong, but they have the same medical problems as the general population," Fontenot, a primary care physician who serves as medical director for the clinic, told Medscape Medical News. "Frequently the medical conditions impacting their lives can be far more serious because their disability affects their ability to earn a living, whether it's a singer's infected vocal cords or a drummer's tremor."
Roughly 90% of its patients are being treated for one or more chronic diseases ― diabetes, arthritis, coronary artery disease, cancer, hypertension, tinnitus, hearing disorders. Psychiatric treatment and medication management services are also available through the clinic.
Early on, patients were suspicious of the healthcare system in general and tended to show up only when they were ill, rather than for regular checkups or wellness visits, Fontenot said. She estimated that about two thirds of patients who had no healthcare provider resorted to hospital emergency departments for care.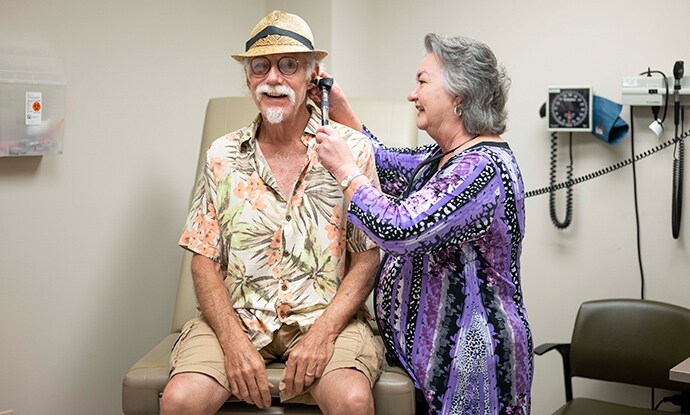 Dr Cathi Fontenot with patient Eric "Rick" Trolsen at the New Orleans Musicians' Clinic.
"Over the years, we've tried to push prevention ― urging patients to depend on the clinic for regular checkups on blood sugar, blood pressure, and cholesterol levels, and to arrange for mammograms," Fontenot said. "We've been able to garner patients' trust, and they learned that we are not judgmental or working just to make money."
The clinic, a federally designated Patient Centered Medical Home, has three pristine exam rooms carved from a medical complex on St. Charles Avenue, shaded by canopies of 100-year-old live oak trees. Bold black and white photographs of contemporary headliners ― Irma Thomas, Ernie K-Doe, Kermit Ruffins, Trombone Shorty, the Rebirth Jazz Band ― line the corridors. Many of these artists perform at occasional fundraisers the clinic sponsors at churches and festivals, where the medical team also holds wellness screenings.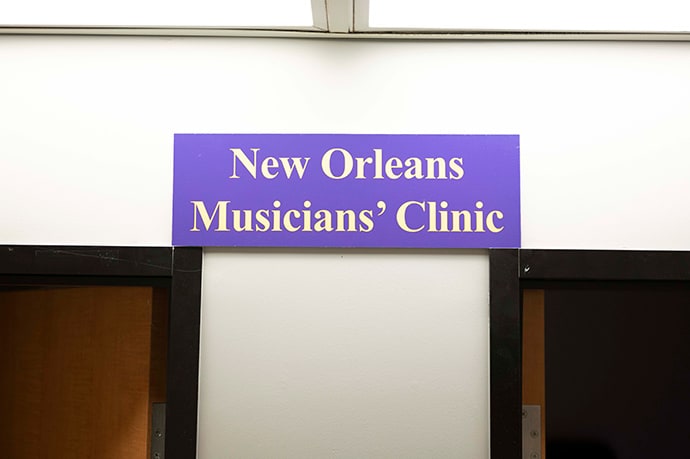 Signage at New Orleans Musicians' Clinic.
Although the clinic is miles from concert venues on Bourbon Street and at the city's less touristy watering holes, clubs, and dive bars, the commute is no deterrent. Many of the patients have been with the clinic for decades; others are newbies who have gravitated to the clinic by word of mouth.
Avoiding "No" for an Answer
A long-term clinic patient, vocalist Ingrid Lucia, 49, who said she battled alcoholism and depression, credits the clinic with helping her to navigate an initial diagnosis of liver disease and the uncertain days awaiting a liver transplant.
"The clinic understands musicians' lives that can seem shocking to others because we don't have stable 9:00 AM to 5:00 PM jobs," Lucia told Medscape. "It's psychologically difficult for a standard doctor to understand what's going on. The clinic helped put me back together."
Lucia started performing as a dancer when she was 10. Through the years, she expanded her repertoire to become a vocalist with a catalog of 13 albums that she wrote, performed, and produced. She toured Europe, but the accomplishments and her itinerant "laissez les bon temps roulez" lifestyle came at a cost to her health. "I've paid a big price for thinking I was invincible and doing shows drunk for a drunk audience not even listening to the music," she said. Before and after the transplant surgery, the clinic ensured she had spending money and helped cover rent, she said.
"We don't ever want to say, 'We can't help you,' " said Megan McStravick, the clinic's social worker. "There is always something we can help with. We don't say 'no' very often. At the same time, we're trying to get people to the point where they are self-sufficient." The effort to help folks get a leg up and not a handout extends to offering tax guidance and rent assistance.
On rare occasions, a potential patient might appear to be taking advantage of the clinic's vast healthcare resources ― and its empathetic staff.
"The other day, I saw an out-of-work patient who needed rental assistance, and she asked for an Uber to get to the clinic so she could register. She found out we can make referrals for mental health, acupuncture, and chiropractic services ― to which she responded, 'Oh, I need those, too,' " McStravick said. "For a few moments, I kind of came unglued at the level of neediness. But I caught myself. They are not gaming the system. It's hard for people to ask for help. But that's what we are here for. It's better that they ask instead of feeling isolated."
The Musician's Clinic helps patients reconnect to their health, Catherine Lasperches, a nurse practitioner at the facility, said. "We want them to save themselves, but they don't like to go to doctors. Musicians are very fragile and emotional."
A Critical Lifeline
Many of her patients underscore that observation. "We musicians don't go to doctors. We're lazy and defiant sometimes. We get comfortable," said keyboardist David Lanoix.
Lanoix, 66, began playing keyboards as a youngster. Talent runs deep through his family pedigree. His father is a piano player and lyricist, and his uncle was New Orleans legend Fats Domino.
Although aware of his fellow musicians' health mile markers, Lanoix, like many artists, said he ignored his health to meet financial demands by playing grueling back-to-back gigs. He knew something was off when he felt his chest pounding while wheeling a dolly carrying his keyboards down Bourbon Street on his way to a bar gig. Early that morning, having played a full night, he began experiencing severe chest pains. He drove himself to the hospital, where doctors confirmed he was having a heart attack. Two arteries were more than 85% blocked.
Today the clinic is a lifeline that reinforces Lanoix's newfound commitment to health. These days, Lanoix is vigilant during the 6-month intervals between clinic appointments, during which he undergoes routine lab work. The clinic's oversight helps him "keep on track of my health no matter how small or miniscule the problem I might have," he said. "They know me and care about me. They look at everything and all the preventative steps I need to take."
Bethany Bultman, a co-founder and president of the board, credits the organization's affiliation with the Performing Arts Medicine Association for broadening NOMC&F's horizon. "We contemplate research to prevent injury and chronic disease as vital," Bultman said. "No one should die for their art."
Sharon Donovan is a journalist in New Orleans.
For more news, follow Medscape on Facebook, Twitter, Instagram, and YouTube.
Source: Read Full Article