Tommy Quick was 12 when a stroke changed his life forever. The last thing he remembers was lying in bed with a pounding headache. When he woke up – after five weeks and two days in an induced coma – he couldn't move.
"I had no idea where I was or what had happened to me," he tells students from his alma mater, Footscray High School, formerly Footscray City College.
Tommy Quick had a stroke at age 12. "I had to relearn everything from swallowing to walking and talking."Credit:Eddie Jim
"For the first year I thought I was in a video game that had a glitch in the system. I just thought if I pressed the reset button everything would go back to normal. Sadly, that wasn't the case. I had to relearn everything from swallowing to walking and talking."
Quick is a regular speaker at his former school and students there raised funds for the first leg of his charity ride on a recumbent trike.
"We're very appreciative of Tom coming back and sharing his insights around resilience and inclusion," says leading teacher Karen Drought.
"To hear from someone with lived experience is much more impactful than me standing up and talking about inclusion to a bunch of kids."
Quick tells the year 9 students he had been a sporty kid and initially struggled to cope. "I was in shock and for that reason, I was very negative. I kept asking, 'Why did this happen to me?'"
But slowly he got his mojo back and continued an involvement in sport by umpiring, playing table tennis, playing cricket with a runner and personal training.
Quick completed PE in year 12 and then fitness studies at Victoria University. He became a personal trainer and motivational speaker.
But in 2021 catastrophe struck again. Quick was on a 9000-kilometre charity ride across Australia to raise money for the Stroke Foundation when he was struck by a car on the Sturt Highway near Nuriootpa, in South Australia.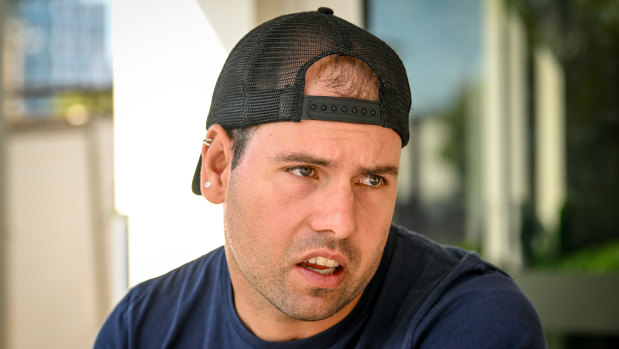 Tommy Quick is preparing set off to complete the remaining 5250 kilometres of his 4 Points charity ride.Credit:Eddie Jim
The horrific accident left him with a shattered pelvis, broken leg and another gruelling year of rehab. "My gait has improved, but I am just so bloody slow," Quick says. "I have [post-traumatic stress disorder] – the screeches of tyres are burnt into my brain."
The stroke left Quick with an acquired brain injury, slurred speech and the loss of mobility in his right arm. Since he was hit by the car he uses a cane to get around and an electric wheelchair or trike for long distances.
But Quick, now 29, is determined to complete his odyssey to raise money for childhood stroke – which affects up to 600 Australians under the age of 18 every year – and promote the need for social inclusion for young people with a disability.
On Friday, he will set off to complete the remaining 5250 kilometres of his 4 Points ride to the four extreme points of Australia's mainland.
"The reason I was here today was for you to challenge yourself and [consider] what you assume about someone living with a disability," Quick told the students at Footscray High days before his departure.
Quick describes his frustration returning to school full time in year 8 following his stroke. "It was hard to find motivation due to my slow processing speed of understanding things," he says.
Quick's mates were great in class, he says, but at lunchtimes he couldn't keep up with them when they walked to McDonald's.
He found himself spending his lunchtimes at an office with teachers' aides. "[The aides] were great, but they weren't my peers, they weren't the people I was going to graduate with."
The breakthrough came when one of Quick's friends began spending every Wednesday lunch with him in the aides' office.
"Now I could enjoy banter with my mate. The accessibility issue was taken away because he was coming to me."
More friends began spending lunch times with Quick in the aides' office and eventually, they started hanging out on the basketball court, which was a manageable walk for Quick. "We were all learning," he says.
Ryan Keenan, a friend from Footscray City College, says Quick taught him that everyone wants to feel included.
"Tom's obviously been through a lot, but he's not letting that get to him," Keenan says. "I think what he is doing is really amazing and inspiring."
Keenan says finishing the 4 Points ride would be incredibly challenging for Quick after being struck by the car.
"I can't imagine what it would have been like for him and his parents, who saw it all unfold," he says. "More credit to him that he is still determined to get out there and finish what he started."
Meanwhile, Quick is mentally preparing for the epic ride. This time he has new safety protocols in place and is sticking to secondary roads. So far, he has raised $68,000 to help prevent, treat and beat stroke.
"I am still thinking about the what-ifs, the time it is going to take, the journey that's ahead, everything is going through my mind."
Follow Quick's journey at the4points.org.
The Morning Edition newsletter is our guide to the day's most important and interesting stories, analysis and insights. Sign up here.
Most Viewed in Lifestyle
From our partners
Source: Read Full Article